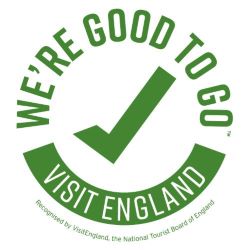 UPDATE 11.01.2021
As you will be aware we have been placed into Lockdown 3 until further notice.  We continue to consider ways in which we can keep our customers and staff safe in the difficult times through which we continue to live. This is of great importance to us.
Caravan storage is in a low risk category and there is not, as a result, any need for the facility to be closed at this time.  We must not, however, be complacent.  The health and wellbeing of our customers remains, as always, our top priority and as such we continue with additional measures to minimise risk to all concerned:
Readers (for the entry gates), and other surfaces in communal spaces continue to be sanitised even more often than usual – though usage is understandably down.

All customers should, when visiting the compound, exercise the same rules on social distancing as already widely recommended by the health authorities.  Do not visit Border Caravan Storage if you are experiencing any of the well-publicised symptoms of Covid 19.  Even if you are showing no symptoms avoid unnecessary contact with others and maintain a 2m gap between yourself and other people.  Be careful not to 'invade' the 2m space of another customer!

If you need to speak to us please do so by email or telephone (leave a message if the answerphone cuts in and we will call you back).  The office will be closed to customers until further notice in order to ensure that the staff working there are able to preserve their 2m 'social distance'.
Any payments should be made by BACS or card which will avoid the need for us to handle cash or you to handle change.
The toilet facility shall remain closed at the present time.
  We have received the following advice from CaSSOA concerning the latest lockdown: 

What if a customer wants to retrieve their caravan / motorhome?
The government has categorised caravan / motorhome storage facilities as being the same as car parks, which mean they can remain open. It is CaSSOAs view that facilities can open and allow access for collection of caravans /motorhomes or to carry out urgent maintenance etc provided that social distancing can safely be maintained.

Day trips are unlikely to be permitted, in addition to staying at another home (including a caravan / motorhome) unless it for one of the reasons specifically set out in law, such as critical workers where required for reasons relating to their work. Customers should be reminded of this.

If you do collect your caravan / motorhome, please be reminded that permitted travel does not include visits to campsites, caravan parks or similar places, either for isolation or holidays. It is likely that these places will remain closed for the foreseeable.

What if a customer wants to access or collect an item from their caravan / motorhome?
This should be permitted provided that social distancing can safely be maintained. We remind you that access is currently only for urgent maintenance or to collect essential items. 

SELF ISOLATION

Can a customer attend their caravan in order to self-isolate?
We remind you that it is vital that any persons showing symptoms however mild must continue to self-isolate at home (their place of primary residence) and not look to travel to their caravan to self-isolate.

The government guidance remains that essential travel does not include visits to second homes, camp sites, caravan parks or similar, whether for isolation purposes or holidays. People must remain in their primary residence.

In addition, CaSSOA's standard terms do not allow customers to occupy their caravan on their site.
We hope that all of our customers keep safe throughout the ongoing emergency and will emaerge full of enthusiasm for the holiday season which will still, we hope, lie ahead.
Best wishes from the Border Caravan Storage Team